Sts Cyril and Methodius Faculty of Theology
Summer opening hours in Sts Cyril and Methodius Faculty of Theology Library:
Mon – Thu: 9:00 – 12:00 | 13:00 – 14:45
Fri: 9:00 – 12:00
Click here for more information.
The library of the Theological Faculty was established as soon as the Theological Faculty was restored in 1990. Of the original stock of the previous Theological Faculty dissolved in 1950, only a small part has been returned to the library (Patrologiae graecae, Patrologiae latinae). The library stock has been continuously replenished by new acquisitions, grants and gifts. The largest part of the library stock consists of books on theology, biblical studies, philosophy and liturgics. There is also wide range of literature focused on history, sociology, law, psychology, pedagogy, arts etc. The employees offer personal consultations on electronic information resources.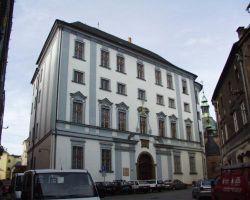 | | |
| --- | --- |
| Monday | 9:00 - 18:00 |
| Tuesday | 9:00 - 16:00 |
| Wednesday | 9:00 - 16:00 |
| Thursday | 9:00 - 18:00 |
| Friday | 9:00 - 13:00 |
| Saturday | 9:30 - 13:30 (When CMTF is open) |
| Sunday | Closed |
Change in opening hours
Mon – Thu: 9:00 – 12:00 | 13:00 – 15:30
Fri: 9:00 – 12:00
Opening hours and contact information for those enterested in on-site study of titles from the departmental libraries stock