Faculty of Law
The library stock is focused on law, politology, sociology and similar topics. The library includes European Documentation Centre. The library fund is divided into individual subject groups. Czech and foreign periodicals are available to users. The employees offer personal consultations on electronic information resources.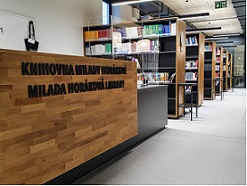 European Documentation Centre
The European Documentation Centre (EDC) was established by the Faculty of Law in 2001. Its mission is to support research, education and the study of European integration by making available documents published by the EU institutions. Since 2007, the EDC has been part of the Law Library.
The EDC documents are part of the central Palacky University catalogue.