Faculty of Health Sciences
The library stock consists of highly specialized books on non-medical healthcare teaching topics of Faculty of Health Sciences. The stock is structured by subjects. There are Czech and foreign journals available. The expert librarian provides individual consultations on electronic information resources and processes research for doctoral students and academic staff of Palacký University.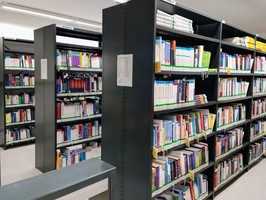 Library of the Faculty of Health Sciences of Palacky University
Hněvotínská 3
775 15 Olomouc
Sídlo: Completion of the theoretical institutes (the library is located in the Faculty of Medicine and Dentistry Library)
GPS: N 49°35.17683', E 17°14.19623'
Telefon: 585 632 807
Email: kfzv@upol.cz
A list of all e-books collections available at UP can be found at the portal ezdroje.upol.cz.
The Library of the Faculty of Health Sciences provides electronic library and information services using modern information technology.
Library and Information Services
training with information services
search activities – request form
consultancy
checking the availability of full texts
Copying services
Print and copy only self-service via the SafeQ system. Printing and copying is paid for by ISIC credit.
A plastic comb binder is available for binding prints or copies.
Interlibrary loan service
Users in categories A, B, and D can use the service to obtain documents from other libraries.
Other libraries can request for loaning, respectively copies of documents for their readers, in print and digital form (DDS).