British Centre
The British Centre offers specialised services in English language teaching and learning support, language exams and international certificates. The British Centre library, although a part of the university library, is open to general public as well. One of its objectives is to provide English language teaching and learning materials corresponding with all language levels. All the library stock can be found in the catalogue.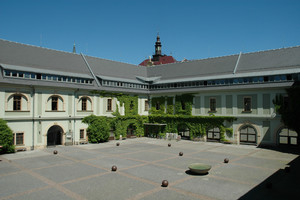 OPENING HOURS
Monday Closed
Tuesday 10:00–17:00
Wednesday 10:00–17:00
Thursday 12:00–17:00
Friday 10:00–15:00
Sunday Closed

Saturday 28 October

Friday 17 and Saturday 18 November

22 December—1 January 2024
Membership
The Library is open to the general public. Anyone can become a library member at any time of the year. There are no professional or age limitations. You will need only an identity document (e.g. passport) and 400,– CZK to pay the annual membership fee. If you are a student/employee of Palacký University, you will get your membership in our Centre for free (see the fee list below).
A passport and a one passport size photo are needed in order to issue a membership card. We are sorry we do not accept credit cards.
Fees for Services
Registration fee for public
(membership for 12 months, no further fees for lending materials)
400.- CZK
Registration fee for Palacký University students and employees
Free
Registration fee for holders of UP alumni card
(membership for 12 months, no further fees for lending materials)
100,- CZK
Photocopying, A4 format
1.20 CZK
Printouts
1.20 CZK
The aim of the English courses at BC KUP is primarily to prepare their participants for the certified Cambridge English international exams, but our courses are also suitable for those interested in "just" developing and improving their current level of English.
Unfortunately, all English courses (both full-year and 1-semester) in 2023/24 are currently full.
For more detailed information, see the general overview of our English courses below.
Course fee of 2-semester courses is 7,200,- CZK. A 5% discount is applied to the price for students/employees/alumni of Palacký University (6,840,- CZK).
It includes: 32 ninety-minute lessons in a period from October 2022 to May (alternatively June) 2023; a textbook; pre-test – preferably in March, 2023 but you can choose a different term from the offer. To take part in the pre-test you have to make an additional registration (for free); 50% discount on a BC KUP membership.
Course fee of 1-semester courses is 4,000,- CZK. A 5% discount is applied to the price for students/employees/alumni of Palacký University (3,800,- CZK).
It includes: 16 ninety-minute lessons during the period from October 2022 to January/February 2023; a textbook; pre-test – preferably in January 2023 but you can choose a different term from the offer. To take part in the pre-test you have to make an additional registration (for free); 50% discount on a BC KUP membership.
OUR SPECIAL OFFER: The CAE course on Thursday includes 120-min lessons instead of 90-min ones. In spite of this increased teaching time the course isn't more expensive.
Course fee of our Saturday courses (preparation for C1 Advanced) is 3,300,- CZK. A 5% discount is applied to the price for students/employees/alumni of Palacký University (3,135,- CZK).
It includes: 8 lessons, 2 of them are 90-minute lessons, 6 are 120-minute lessons. Period: from October 2022 to January 2023; a textbook; pre-test – preferably in January 2023 but you can choose a different term from the offer; to take part in the pre-test you have to make an additional registration (for free); 50% discount on a BC KUP membership. Four out of eight lessons in total are taught in our classroom, four are videoconference lessons (in Zoom environment). Participation in the course doesn't mean that you don't have any free Saturday from October to January :-) - the course lessons are taught approx. every second Saturday (according to the schedule given in advance). The course is intended for students who are heading for the C1 Advanced exam in February / March / April exam dates and need to practice the test format and strategies. This kind of course is appreciated mainly by students who are busy during the work days as well as students living outside of Olomouc, often in villages and towns situated in other regions.
The fee can be paid only via bank transfer to the bank account no.19-1096330227/0100, VS = 999616011. Send then confirmation of the bank transfer to bc@upol.cz, please.
As a partner of the British Council we organize the Cambridge English Exams, the world's best-known qualifications for learners of English. The exams cover all four language skills (listening, speaking, reading and writing) and assess the candidates' ability to use a variety of structures and functions in authentic situations.
Enter The British Council registration system through the link below and check there all Cambridge English Exams days in our Centre. You are supposed to choose Olomouc in the filter. For now, you can find dates up to December 2023 there.
Parent/legal guardian's consent with the test day photo for exam taker under 18 years of age
List of useful textbooks and tests
Framework
The particular levels of the most frequent Cambridge Exams can be found here. A summary of the 2015 changes to the Cambridge English exams First and Advanced can be found here.
Applications and Certificates
For all exams you can register online here.
For institutions we offer the possibility of bulk registrations here. To get access to this portal you need to send an email request to pcp.registration@britishcouncil.cz, inluding your company details (invoice details), contact name and contact email address.
Online registration guide for institutions
Parent/Legal Guardian´s consent with the test day photo for CESOL exam taker under 15 years of age
Computer-Based Exams
Cambridge Exams PET, FCE, CAE and CPE are now available to be taken as a computer-based test. Other than the method of completing them, the exams are exactly the same, and they both lead to the same internationally recognised Cambridge ESOL certificate.
Get familiar with a computer-based test
Extended Certification
The 'Extended Certification' will give candidates additional credit for the language skills they have demonstrated and a clearer picture of how results relate to the Common European Framework of Reference (CEFR). A candidate who performs particularly well in the exams can get credit at a higher level on the CEFR. For example, candidates who get grade A in 'Cambridge English: First' receive a 'FCE' certificate indicating that they are at C1 level (instead of B2). Candidates can also receive credit for their English language skills, even if they do not achieve a passing grade. So a candidate who does not get enough marks for a grade C in 'Cambridge English: Advanced' can still be awarded a certificate showing performance at level B2 if they show this level of ability in the exam.
The pre-test (i.e. a simulation of the internationally recognized Cambridge English Exams) corresponds by its form, organization, and timetable with a real paper based Cambridge Exam. We are able to simulate more less also the computer-based form and we recommend it for those who are interested in a computer-based form of exam in future.
The pretest makes its participants familiarized with the exam format and time and possible stress. Additionally, results available within 2 weeks after the pretest provide an important feed-back discovering prospective weaknesses. Focus on them specifically before taking the Cambridge Exam increases the chance to pass it. The closest pretest day in the British Centre is Saturday 9 September 2023, deadline for registrations: 20 August 2023.
The British Centre and children
In the British Centre we strive to keep a rich library stock of attractive English books for children and young readers, from the very young age to young adults. You can find various picture books and picture dictionaries, lift-the-flap books, graded readers (often with audio as well), magazines, the most popular children books published by renowed publishing houses (Bloomsbury, Usborne etc.) up to mangas, comics and fantasy books here.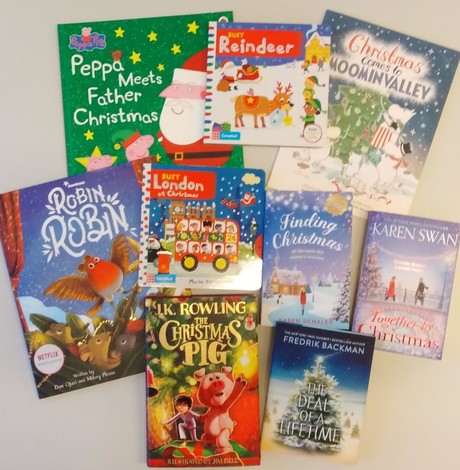 Reader Account (prolongation of borrowed books)
Prolong the basic period for which your books have been borrowed simply and comfortably via your BC KUP reader account.
1. USER NAME:
It is either
your e-mail address used for BC KUP registration (i.e. other than of Palacký University)
or
your BC reader number. It is created simply by adding letters BC before your UP Library reader number (sent in all Palacký University Library notification e-mails).
E.g. if your UP Library number is B0000001234, your BC reader number is BCB0000001234.

IMPORTANT: Registered UP alumni have to use their BC reader number as their user name.
2. PASSWORD:
When you register in BC, your first name with a minor initial letter (instead of a capital one) without any diacritic marks is set up as your password (e.g. gunter instead of Günter).
The catalogue of the British Centre Library offers a unique collection of literature suitable for all individuals interested in improving English language and in English studying and/or teaching.
What We Offer
course-books at all levels
language courses on DVD
fiction, readers, and talking books
feature films
songs and music on CDs, multimedia CD-ROMs
Business English on all levels
English for Special Purposes
British Studies
British magazines
materials for Cambridge Exams
materials for TOEFL Exams
methodology books
literature for English language teaching
language tests on all levels with keys
Language Levels
Beginner
Elementary
Pre-Intermediate
Intermediate
Upper-Intermediate
Advanced
Proficiency
If you have any suggestions or proposals, please contact us.
British Council
The British Council is the UK's international organisation for educational opportunities and cultural relations. Established in 1934, British Council has offices in more than 100 countries worldwide. The British Council runs programmes in the arts, science, sport, governance and English language to increase appreciation of the UK's creative ideas and achievements and build mutually beneficial relationships between people in the UK and other countries.
The British Council projects for ELT teachers and students include LearnEnglish, Teaching English or LearnEnglish Mobile.
The British Council also supports the British Centre in book ordering and provision of periodicals.
More information on current projects
Partner Libraries
The British Council cooperates with ten regional partner libraries. The libraries have different status and standards regarding membership.
Publishers
In the Library, you will find the latest ELTL materials thanks to co-operation with representatives of British publishers focused on English Language Teaching and Learning. We also have available British publishers' catalogues and price lists for reference.
The list of publishers (with contacts)